June 4, 2016 – Golden Valley Fire District (GVFD) firefighters from Stations 11, 12 and 13, in addition to GVFD Captains Boyd Lewis and Dave Martin, responded to a structure fire at 8:17 p.m., Saturday, June 4, 2016, in Golden Valley.
When the firefighters arrived on scene, they observed a two-story home on fire in the 3400 block of North Mayer Road and they began fire suppression operations. Because of GVFD's quick response time and their excellent firefighting skills, the firefighters were able to contain the fire to only an external set of stairs leading to the second floor of the home.
According to fire district officials, one of the residents said they believed the fire might have started when a resident did not properly extinguish a cigarette in a "butt" container that was adjacent to the stairs, but the official cause of the fire is currently under investigation.
Due to the temperatures soaring into triple digits, Captain Martin and another GVFD volunteer passed out bottles of ice-cold water to the firefighters and residents of the home who appeared to be dehydrated.
GVFD officials recommend that residents always ensure burning materials, such as a camp fire or burn barrel, is completely extinguished prior to departing the immediate area. A good rule of thumb is to pour water on any smoldering regimens of the fire. Furthermore, people must ensure all cigarettes are completely extinguished and placed in a glass or metal container.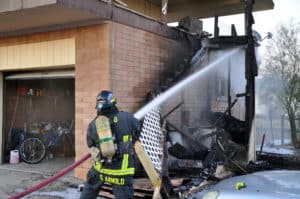 Golden Valley Fire District (GVFD) Firefighter-Paramedic Sean Arnold applies water to the eternal set of stairs of a house that caught fire Saturday, June 4, 2016, in Golden Valley.
By Butch Meriwether
Photographer/Public Information Officer