GOLDEN VALLEY – Two drivers escaped injury and/or possible death when a wrong way driver in Coyote Pass of U.S. Highway 93 slammed into a northbound vehicle.
GVFD firefighters and Department of Public Safety officers responded at 8:52 a.m. on July 11, 2016, to a report of a head-on collision at Mile Post 68 on the highway. When law enforcement officers and firefighters arrived on scene, it was determined there were no injuries to either of the drivers in the "sideswipe" accident that shut down the right lane of the highway for about 45 minutes.
According to GVFD officials, an elderly woman driving a mid-sized white four-door Buick had mistakenly thought the northbound U.S. Highway 93 to the westbound transition road to U.S. Highway 68 was an onramp for southbound U.S. Highway 93. Once on the transition road, the female driver continued southbound in the northbound lanes of U.S. Highway 93 for about a mile prior to careening into a northbound blue four-door Buick driven by an unidentified male.
Even though the cause of the accident is apparent, DPS is continuing their investigation.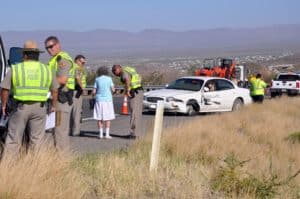 An elderly woman driver of the vehicle that was driving in the wrong direction of U.S. Highway 93 speaks with DPS.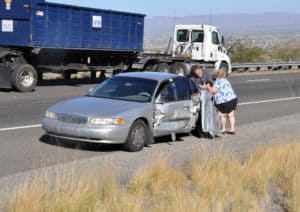 A woman who observed the accident on U.S. Highway 93 provides information to the male driver of the northbound vehicle involved in the accident
By Butch Meriwether
Photographer/Public Information Officer