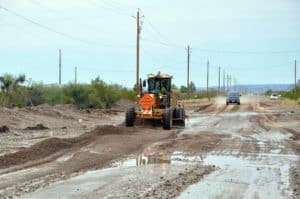 A Mohave County road grader operator clears mud and debris from the roadway on South Estrella in Golden Valley. Many of the county streams flowed across the roadways making it virtually impossible for drivers to pass and for those who attempted, they got their vehicles struck.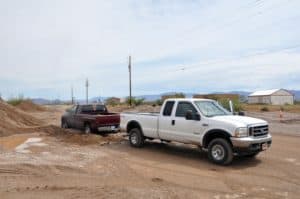 Golden Valley residents use a pickup truck to free another truck that was stuck when the driver attempted to cross flowing water at Estrella Road and Bolsa Drive. According to the driver of the stuck pickup, he thought it would be safe to drive through the water and because of his decision, he ended up sinking his truck up to the frame in the mud.
Calls came in for two other vehicles stuck because of raging waters flowing across the road, one car on North Estrella Road and a pickup truck on South Estrella Road. Upon firefighters arrival on the scenes the drivers had self-extracted themselves.
An unidentified 73-year-old male driver learned a valuable lesson; do not attempt to drive through water running across the road. As the driver did not heed the warning signs, he might have perished if it were not for the Golden Valley firefighters who rescued him. According to the elderly man, the water flowing over the road was only about six inches deep so he decided to continue his journey home. As he began to drive through the flowing water a giant wall of water slammed into his full-sized Mercury Grand Marque and spun it around like a top. The debris and dirt surrounded his vehicle making it impossible for him to get out of the car. When GVFD firefighters from Station 13 arrived on scene, water was already rushing into the passenger compartment where the driver was trapped. They immediately went to the vehicle, and were able to extract the driver and take him to safety.
GVFD officials stress that drivers should never attempt to drive through water that is flowing across a road. They say "turn around, don't drowned."
In other fire district related news for the same day, GVFD was called out to reports of electrical transmission lines down in the roadways. Upon arrival they notified Mohave County Sheriff's Office and Unisource Electric.
 

Firefighters also responded to a medical call in the 600 block of Elgin Road of a child choking in which first aid was administered.