GOLDEN VALLEY – Golden Valley Fire District (GVFD) firefighters from Stations 11, 12 and 13, in addition to GVFD Captains Boyd Lewis and Dave Martin, and Fire Chief Jack Yeager, responded to a structure fire at 11:58 a.m. Tuesday, June 28, 2016, in Golden Valley.
When the firefighters arrived on scene in the 3600 block of Chino Drive, they observed smoke billowing out both doors of a double-wide mobile home and flames on the east end of the structure.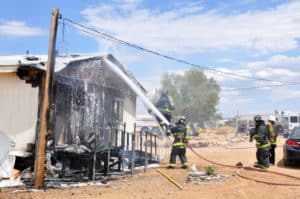 GVFD Firefighter-Engineer Scott Proudfoot sprays water on the burning home as Firefighter-EMT Matt Gore climbs a ladder to "vent" the roof.
Because of GVFD's quick response time and their excellent firefighting skills, the firefighters were able to contain the fire to only the eastern portion of the home, although there was extensive smoke damage to the entire interior of the home.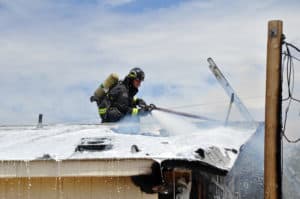 GVFD Firefighter-EMT Matt Gore sprays water into the attic area of a double-wide mobile home
The two residents in the home were able to escape injury and were able to rescue their two dogs and a cat that were in the home when the fire erupted.
According to fire district officials, it appears the fire may have started on the porch area on the eastern side of the house, burned up the wall and into the attic area, but the exact cause and the origin is being investigated by the GVFD fire marshal.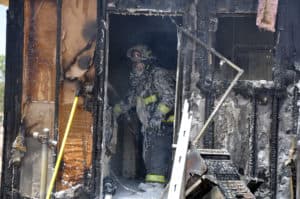 Firefighter-Engineer Justin Ramos exits the double-wide mobile home covered with firefighting foam after inspecting the interior to ensure that was no additional fire.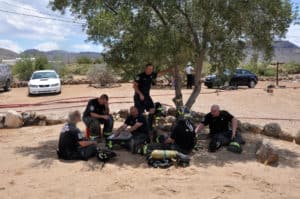 Golden Valley firefighters take a break to cool off and hydrate after extinguishing the fire.
By Butch Meriwether
Photographer/Public Information Officer