GOLDEN VALLEY – A recreational vehicle sustained major damage to its front end during a single-vehicle accident that occurred on May 25, 2017 at 6:38 p.m. at Mile Post 17 on Highway 68.
Golden Valley Fire District Duty Officer Captain Dave Martin, firefighters from Station #12, River Medical Ambulance Service and DPS responded to the accident. While responding, Station #12 firefighters and River Medical were called off due to no injuries being sustained during the accident.
According to the 68-year-old driver, he was traveling westbound on the highway in a caravan of two other motorhomes and a truck pulling a 5th-wheel trailer heading to an RV show in Oregon when the right front tire of his vehicle blew out.
The driver stated that when the tire blew, it caused his RV to careen into the guardrail, taking out about 30 feet of the metal railing
The exact cause of the accident is being investigated by DPS.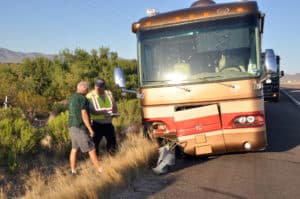 GVFD Duty Officer Captain Dave Martin takes down information provided by the driver of an RV.
GVFD Photographer/Public Information Officer Butch Meriwether