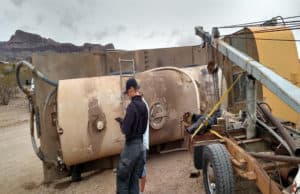 GOLDEN VALLEY – Golden Valley Fire District (GVFD) firefighters from Station 12 and GVFD Duty Officer Boyd Lewis, and Mohave County Sheriff's Office (MCSO) deputies, responded at 10:46 a.m. today to a one vehicle accident on West Bolsa Drive near the intersection of Drake Road.
When the firefighters and dupties arrived on scene, they observed a commerical water haul truck laying on its side and the driver standing outside the vehicle.  The firefighters performed a medical evaluation of the driver and stated that he only had minor scratches to his leg and it was not necessary for him to be transferred to Kingman Regional Medical Center for further treatment.
According to firefighters, the driver told them the right-rear leaf spring attahced to the axle broke while he was driving east bound on Bolsa Road causing the vehicle to slide sideways and roll onto it side.
The exact caue of the accident is currently under investigation by MCSO.
By Butch Meriwether Photographer/Public Information Officer